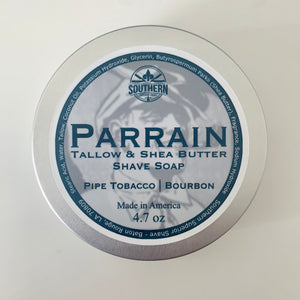 Parrain Tallow & Shea Butter Shave Soap
Regular price
$15.00
Sale price
$20.00
Unit price
per
Scent Profile:  Pipe Tobacco and Bourbon
Parrain is a cajun term of endearment which literally translates to "godfather".  This super rich, handcrafted shea butter bath soap features the masculine scent combination of pipe tobacco and bourbon.  Like all Southern Superior products it is handmade in small batches using the finest ingredients.
With natural tallow and shea butter, our premium shave soap provides an outstanding shave experience. The rich, easy to lather formula provides excellent cushion and moisture for a fantastic post shave feel. Large 4.7 oz. tin will last for months, allowing you to enjoy the amazing scent through hundreds of shaves.
• All natural tallow and shea butter formula provides outstanding cushion and moisturizing qualities.
• Lathers easily with an amazing, long lasting scent.
• Free of synthetic preservatives and dyes.
• Rich, concentrated shave soap will last months, allowing you to shave hundreds of times with a single container.
---
Share this Product
---