A MID CITY SHOP IS STOCKED FLOOR TO CEILING WITH LOCAL WARES
By

 

Photography by Collin Richie
Local Leaf Gallery might seem small from the outside, housed inside a cottage off Government Street. But walk inside the mural-covered door, and you'll find an expansive array of items made by Louisiana artists and makers.
Here, visitors will find perfectly curated tables and shelves with locally made items that share a Louisiana spirit. From crawfish pot-shaped bath bombs to soy candles that smell like Creole tomatoes, any gift-giving or shopping occasion can be made local.
In the front, there's a seasonal display with everything from gifts to decor to tea towels. To the left, you'll find a men's section perfect for finding Father's Day, anniversary or groomsmen gifts like beard kits, whiskey glasses and leather koozies.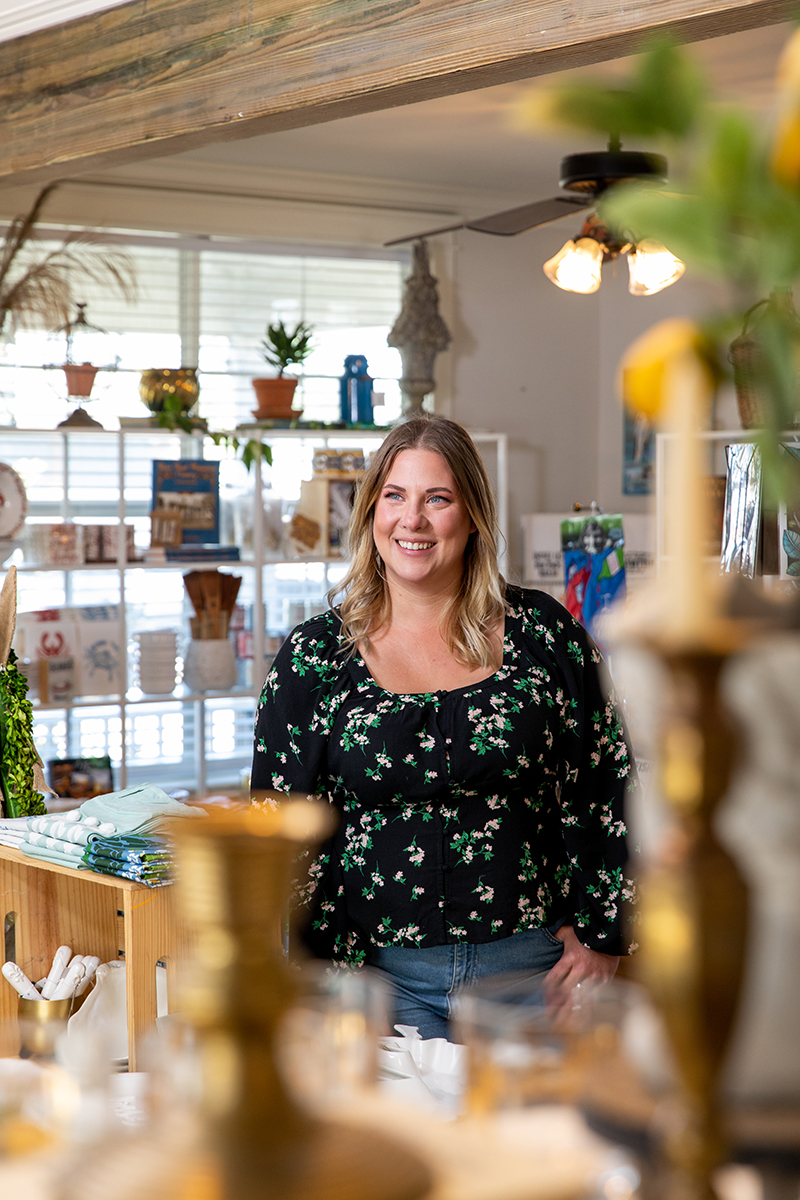 The walls are lined with prints from artists depicting local favorites like hot sauces, beers, snoball syrups and Zapp's chips, along with famous New Orleans cocktails, such as hand grenades and hurricanes. As you make your way to the back, you'll find a section of flags and door hangers to add some local flair to the outside of your home, as well.
Owner Brittany Rouse was inspired to open a brick-and-mortar stocked with local goods after she realized many local creators were suffering from the pandemic. And after stepping away from her teaching job, Rouse realized helping local artists was a great way to use her art history degree from LSU.

"When the pandemic hit, there was just this very clear need to support local artists and local makers," she says. "There was a community push for that, and I feel like there was a gap in that market here."
Though Baton Rouge has long had several monthly arts markets, the maker community has seen a growth of opportunities lately, with local gift shops such as BRASS by Circa 1857 and Local Supply also opening recently.
After living in New Orleans for a few years and shopping its array of small businesses, Rouse wanted to bring to Baton Rouge another new spot to find unique items from local creators.
"New Orleans is a good place to find different small businesses that support their community and are proud of their culture," she says.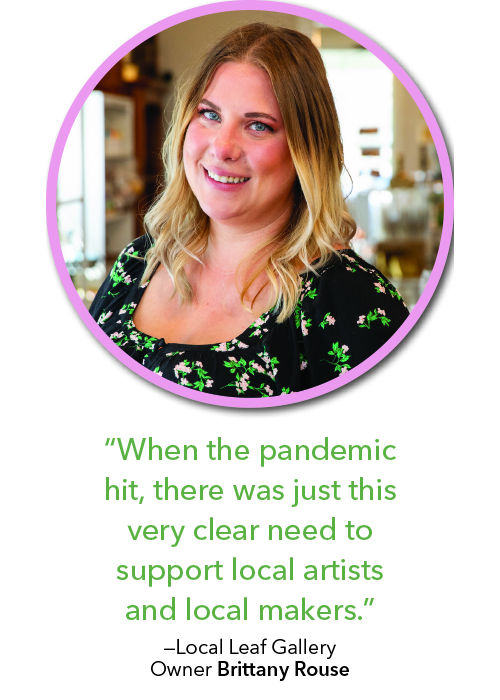 With experience from attending and working local markets, Rouse decided to open Local Leaf Gallery at 555 Caddo St. in Mid City in November 2021, after researching makers in the area and collecting their products.
Rouse says going to pop-up markets helped her see what customers liked and didn't, so she knew what items would fit best in her store.
Now, she aims to cultivate excitement around the local maker community through regular events at the store. So far, she's had successful turnouts at her Spring Plant Sale, Maker's Mixer and Vintage Market.
The events, she hopes, are not only for customers' benefit, but also allow makers and artists to meet and network with each other and share their creative talents over cocktails and light snacks.
In the future, Rouse also hopes to start carrying house plants, which was one of her original intentions for the shop and is how the word "leaf" made its way into the store's name.
"I think we hit on a lot of different things that similar stores don't, just because our selection is a little more varied," she says. "I want to be a one-stop shop for everything in your house."
Local Leaf Gallery is open Tuesday through Saturday from 10 a.m. until 5 p.m. You can also find a large selection of in-store items for sale online. localleafgallery.com